The Portuguese food is delicious, the soup is the first course of any Portuguese meal. the famous soup is the Minho, caldo verde(soup), made from spiced sausage, potatoes and cabbage.
Portuguese typical food
Portuguese fish and seafood are good sources of protein and are typically low in fat. While slightly higher in fat than other varieties, Salt Cod is hardly ever found fresh in Portugal, but is prevalent in its salted form everywhere. Normally it has a strong, salty flavor, but can be toned down in certain preparations. Cod liver oil, as the name suggests, is the essential oil extracted from the livers of Atlantic cod and have large amounts of protein nutrient. Check this Protein foods section to know about protein health benefits.
Other typical food is the Bacalao, there are several kinds to cook this revered dish as there are days in the year.
The delicious fish (peixe) dishes revolve around sole (lenguado) and sardines (sardinha) although salmon (salmão) and trout (truta) are also featured heavily. These are fried, grilled or served in a variety of sauces.
In several Portuguese restaurants, if you order a salad it will come sprinkled with salt, habitually you can ask for it "sem sal" (without salt).
Maintain a balanced diet of nutrients is essential for maintaining a healthy body. There are many methods to be like, whether for good food and / or practicing daily exercises or at least 3 times a week. With this calculator you can find out your body fat indexwww.freebodyfatcalculator.org giving you an idea of how healthy you are.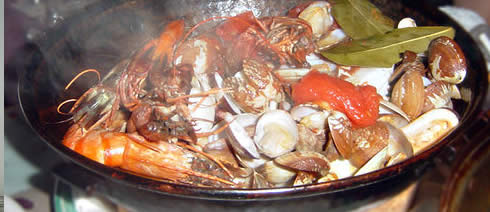 Drinking in Portugal
In Portugal the best drink of choice is wine. Red wine is the favorite, but white wine is also popular. Drinking wine during a meal is very common in Portugal, and also after the meal is finished. Actually the drinking is considered almost socially intimate.