Portugal Travel Guide – Travel to Portugal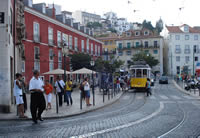 Lisbon is perhaps Europe's most pleasant and affordable city. Its fantastic architecture, diverse population, delicious seafood, intriguing tile-work and non-stop night-life bring together the best elements of Portuguese life. Don't miss an evening bar-hopping in the Bairro Alto listening to contemporany hip music and Portuguese blues-fado!
Places to see
Tour beautifully restored towns and well-preserved architecture of UNESCO's World Heritage sites in Evora , Batalha and Alcobaça . If you are interested in monuments, Evora and Coimbra are must-sees.
The most beautiful natural areas lie in the Minho , Lima, and Douro valley. You can explore the verdant beauty and rural customs of the Minho Valley, or check out the spectacular gorge in the Douro valley.
The city of Oporto is located at the end of the Douro Valley, on the sea, and is famous for its port wine. It is an excellent base for exploring the region.
Enjoying the Portuguese Lifestyle
If it's the beach you are after, the Algarve coast offers highly developed stretches of beach. The rest of the coast (with the exception of the area near Lisbon and Porto) remain relaxing, totally Portuguese and isolated. Great stretches of sand are there for the relaxing, especially along the northern Costa Verde , near Viano do Castelo . The beaches near southern Alentejo are the most remote and least populated.


Transports
Transportation and accommodation are excellent and very reasonable, perhaps the cheapest in Europe. The wine is excellent and don't forget to try some vinho do Porto (port), Portugal's most famous export. If you are interested click here.


Climate
Summer might be the most popular time to visit the town of Portugal, but for the traveler who can chart his or her own course, spring and autumn are the most delectable seasons.

Habitually there are only slight fluctuations in temperature between summer and winter; the overall mean ranges from 25°C in summer to about 14°C in winter. The rainy season begins in November and usually lasts through January.

In the town of Lisbon exists in its strong links to the past, renovated palaces, magnificent churches and castles.

Bridges and port wine are what characterises Oporto, Portugal's gracious northern capital and second largest city.

Known as the city of students, has developed into a cultural centre, mainly because of the University of Coimbra founded in 1290.